Swiss Delight
Booking Dates
12/29/2022 through 03/22/2023
Travel Dates
12/29/2022 through 04/02/2023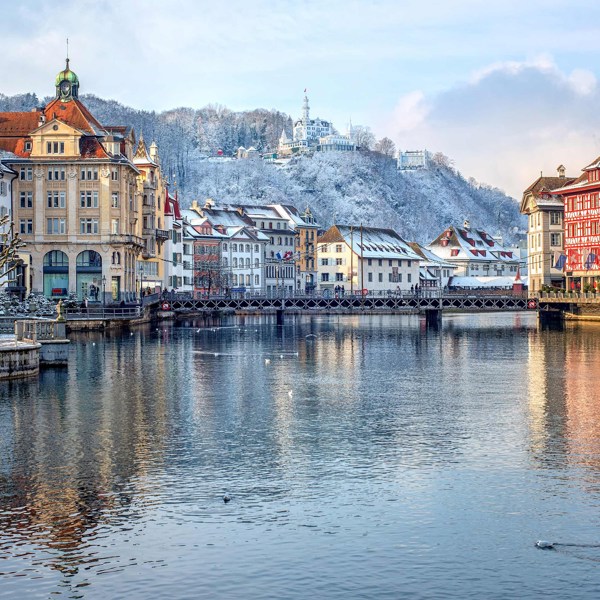 Swiss Delight
Get swept up in the charm of Switzerland's lively cities and soul-stirring landscapes on this perfect winter break filled with magical Christmas markets, delicious food and plenty of opportunities to shop.


Dining Summary
1 Welcome Reception (WR)
8 Breakfast (B)
1 Be My Guest (BMG)
2 Dinner (D)
1 Farewell Dinner (FD)
Be My Guest
Bourg-en-Lavaux: Enjoy Swiss hospitality and the flavours of local wines, cheeses and breads with the owner of a local vineyard overlooking Lake Geneva.
Dive Into Culture
Broc: Explore the secrets of chocolate making at Maison Cailler and sample the rich flavours during this sweet adventure.
Brienz: Learn about Switzerland's wood-carving heritage at the Jobin wood sculpture museum in Brienz.
Iconic Experience
Geneva: Spend the day taking in the spectacular views of Geneva.
Bern: Explore Switzerland's capital and see the Cathedral of St. Vincent, clock tower and Ogre Fountain.
Switzerland: Marvel at the Alpine landscape as you drive past breathtakingly beautiful mountains and valleys.
Lucerne: During an orientation with your Travel Director, see the Lion Monument, Old Town Hall and Chapel Bridge, the oldest wooden covered bridge in Europe.
MAKE TRAVEL MATTER®
Bern: Make a stop for a MAKE TRAVEL MATTER® Experience at an inclusive café.
| Day | Description | View All |
| --- | --- | --- |
| Day 1 | Welcome to Geneva | Details |
| Day 2 | Journey to Lausanne and Montreux Connect with Locals | Details |
| Day 3 | Venture to Broc and Gruyères Dive Into Culture | Details |
| Day 4 | Golden Pass train and journey to Bern and Interlaken | Details |
| Day 5 | Explore the sights of Lake Brienz Dive Into Culture | Details |
| Day 6 | Cross the Brünig Pass to Lucerne | Details |
| Day 7 | Enjoy mountain views in Lucerne | Details |
| Day 8 | Discover cosmopolitan Zürich | Details |
| Day 9 | Farewell Switzerland | Details |