12 Day Signature Switzerland with Glacier Express Train
Booking Dates
06/28/2023 through 12/17/2024
Travel Dates
12/14/2018 through 12/31/2024
Provider
Kensington Tours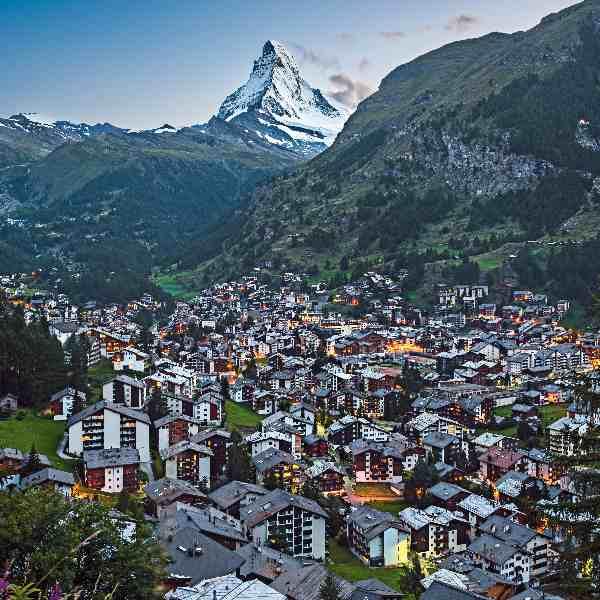 12 Day Signature Switzerland with Glacier Express Train
The perfect balance between chic urbanity and the great outdoors, Switzerland is one of the most sought-after destinations on a continent that overflows with them. Blending world-class chocolate and cheese, majestic alpine scenery, charming mountain towns, posh accents, and one of the most impressive rail journeys on Planet Earth, this trip delivers the Swiss experience your heart longs for.
After arriving in Zürich, the tour kicks into full swing in Lucerne, perhaps the most quintessentially Swiss town in Switzerland. After exploring its cobblestone streets and magnificent covered bridges on a privately guided walking tour, you'll have the chance to sample some of the world's finest cheeses and, later, indulge your sweet tooth through a private tasting at Max Chocolatier, one of the world's finest chocolate-makers. An entire day devoted to the region's natural treasures – including a leisurely cruise around Lake Lucerne and a cogwheel train ride to the summit of Mount Pilatus – caps off the experience here.
Further south lies Interlaken, the charming town nestled between the Thun and Brienz lakes. Your experience here begins with a delightful private horse-drawn carriage ride through the picturesque town.
You'll see Zermatt's most famous resident long before you arrive in this idyllic Swiss town. The 14,692-foot (4,478-meter) Matterhorn is synonymous with Switzerland itself. After an evening on your own to explore Zermatt, come face-to-face with the mountain itself on a visit to the Matterhorn Glacier Paradise, home to an unbeatable 360° view of 38 Alpine peaks and 14 enormous glaciers from the summit.
The journey to your next stop is an experience in itself. After boarding the fabled Glacier Express in Zermatt, you'll ride in first-class comfort through the spectacular Swiss countryside on an impossibly scenic eight-hour rail trip over nearly 300 bridges, through more than 90 tunnels, and across the stunning 6,706-foot (2,044-meter) Oberalp Pass to St. Moritz, the mountain playground of Europe's elite. With a historic hotel as your home base, you'll have plenty of time to explore the scenic delights (both on your own and via private horse-drawn carriage) before returning to Zürich.
Kensington Tours creates private trips from the world's finest ingredients. Tailor-made with care by your personal Destination Expert, your personalized trip is always a one-of-a-kind experience made just for you. Expert local guidance and 24/7 service come standard.
| Day | Description | View All |
| --- | --- | --- |
| Day 1 | Zurich To Welcome | Details |
| Day 2 | Zurich To Lucerne | Details |
| Day 3 | Lucerne | Details |
| Day 4 | Lucerne To Interlaken | Details |
| Day 5 | Interlaken | Details |
| Day 6 | Interlaken | Details |
| Day 7 | Interlaken To Zermatt | Details |
| Day 8 | Zermatt | Details |
| Day 9 | Zermatt To St. Moritz | Details |
| Day 10 | St. Moritz | Details |
| Day 11 | St. Moritz To Zurich | Details |
| Day 12 | Zurich | Details |